Brandon Boykin
2011 Winner – Brandon Boykin – Georgia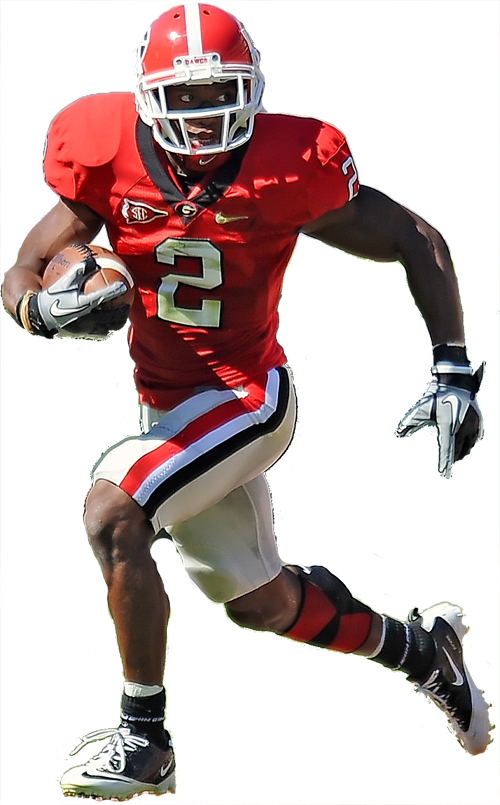 Georgia senior Brandon Boykin has been selected winner of the 2011 Paul Hornung Award, presented by Texas Roadhouse, as the most versatile player in major college football.
Boykin demonstrated his versatility throughout the 2011 season as a bona fide star on defense and special teams and an impact player on offense. Boykin played nearly every down at cornerback; returned kickoffs and punts, played on the kickoff and punt coverage teams; and saw action at tailback, wide receiver and quarterback in a "wild-dog" offensive set. A second team All-Southeastern Conference selection by the league's coaches at defensive back, he helped Georgia score in all three facets of the game as a senior.
"It's rare for a modern-day college football player to perform at a high level in all three phases of the game, especially in an elite conference," Hornung said. "From what I've seen of Brandon Boykin, he is willing to do whatever it takes to help his team win games. That's how I played the game. Brandon Boykin is a deserving winner of the Paul Hornung Award."
"My experience at Georgia has changed my life in so many positive ways and allowed me to be considered for such a prestigious honor," said Boykin. "Being a Georgia Bulldog has helped groom me into the individual I am on and off the field. Winning the Paul Hornung Award is an amazing accomplishment and one that I will cherish as one of my greatest accomplishments forever. I am humbled by the fact that I was selected as the winner by Mr. Hornung and everyone else involved with the selection process. I would like to thank my teammates, coaches, fans and the entire Georgia program for helping me to achieve this incredible achievement."
On defense, Boykin was a lockdown cornerback as a senior. He had three interceptions and nine pass breakups in the secondary while compiling 55 tackles, including 11 for loss. He forced two fumbles and recorded a safety. He finished his career with 159 total tackles, 20 tackles for loss and nine interceptions.
On special teams, Boykin enjoyed one of the most successful careers in Southeastern Conference history. He finished the 2011 season with 38 kick returns for 850 yards and returned 14 punt returns for 180 yards and a touchdown. For his career, the 5-10, 183-pound Bulldog finished as Georgia's all-time leader in kickoff return yardage with 2,663, which ranks second on the conference's all-time list. Boykin is also the only player in SEC history with three 100-yard plays of any kind, finishing his career with four kickoff returns for touchdowns and one punt return for touchdown.
On offense, Boykin was a threat to score from any spot on the field, notching touchdowns on 25 percent of his touches. He had seven carries for 103 yards and a touchdown and five receptions for 71 yards and two touchdowns in 2011. On his first offensive touch of the season, he ran 80-yards for a touchdown in the team's opener against No. 5 Boise State in the Chick-fil-A Kickoff Game at the Georgia Dome in Atlanta.
Boykin's performance against No. 12 Michigan State in the 2012 Outback Bowl may have displayed his versatility best as he produced points three different ways: he set an Outback Bowl record on a 92-yard punt return for a touchdown, caught a 13-yard touchdown pass out of the backfield and a forced a safety on a solo tackle of two-time Hornung Award Watch List selection Keshawn Martin in the endzone. He also added seven tackles, including two for loss, in the 33-30, three-overtime loss.
Despite the outcome, Boykin was named the game's Most Valuable Player.
Georgia finished the 2011 season 10-4, including ten consecutive wins to end the regular season. It was the longest winning streak for the Bulldogs since 1982. Georgia won the SEC Eastern Division and earned a place in the school's first SEC Championship Game since 2005, finishing the regular season 7-1 in league play.
A Fayetteville, Georgia, native out of Fayette County High School, Boykin was a consistent performer throughout the 2011 season. He was named to the Paul Hornung Award Weekly Honor Roll, a recognition honoring versatile, single game performances, following eight of Georgia's 13 games.
Boykin was chosen as the second Paul Hornung Award winner from among four finalists by a 16-member national Selection Committee comprised of sports journalists and retired NFL players. An additional vote came from fan voting on the Texas Roadhouse Facebook page; all votes were tabulated and scored independently by regional accounting firm Dean Dorton Allen Ford. On December 9, Boykin, Joe Adams (Arkansas), LaMichael James (Oregon) and Eric Page (Toledo) were named Paul Hornung Award finalists by the same selection process.
Boykin participated in the 2012 Senior Bowl on Jan. 28, 2012 in Mobile, Alabama, marking the second straight year that the winner of the Paul Hornung Award participated in the annual showcase of the top seniors across the nation.
The Louisville Sports Commission successfully launched the Paul Hornung Award in 2010 to honor its namesake and native son and to promote outstanding performances by versatile college football players. Owen Marecic of Stanford, a two-way starter and All Pac-10 performer at fullback and linebacker, was the inaugural Paul Hornung Award winner.
Post-Collegiate Career
Brandon Boykin was selected by the Philadelphia Eagles as the 123rd pick in the 2012 NFL Draft. He emerged as a team leader in 2013 when he had six interceptions, the second-most interceptions in the league and the most for the Eagles. In 2013 he also helped the Eagles to the NFC East title, their first since 2010, with an end-of-game interception that secured the win over the Cowboys. Boykin continues play with the Eagles as a cornerback. With the Eagles he has racked up 108 tackles, 7 interceptions, and forced 4 fumbles.