Owen Marecic
2010 Winner – Owen Marecic – Stanford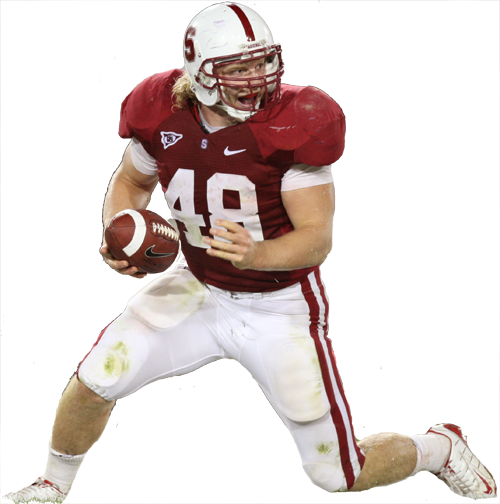 A throwback to another era, two-way starter Owen Marecic of Stanford University was selected the inaugural winner of the Paul Hornung Award as the most versatile player in major college football, it was announced by the Louisville Sports Commission and Paul Hornung.
The Cardinal senior started in all 13 Stanford games in the 2010 season, nine on both sides of the ball, earning first team All-Pac 10 honors at fullback and honorable mention at linebacker. He logged an average of 110 plays per game – equivalent to nearly two full seasons – and was the only two-way starting player among Football Bowl Subdivision teams in 2010. Marecic was named American Football Coaches Association First Team All-America as the All-Purpose Player.
"I am honored to accept an award that commemorates Mr. Paul Hornung," Marecic said. "Mr. Hornung epitomizes what it means to be a football player not only with his talents and versatility but also with his devotion to his teammates and his drive to excel."
A senior biology major from Tigard, Oregon, Marecic helped lead the Cardinal to a school record 12-1 season, including a 40-12 win over Virginia Tech in the Discover Orange Bowl. He recorded six tackles, a sack for minus 11 yards and scored on a one-yard TD plunge that increased Stanford's third quarter lead over VPI to 19-12.
Marecic was chosen Paul Hornung Award winner from among three finalists by a 16-member national Selection Committee comprised of sports journalists and retired NFL players. On December 10, the Selection Committee chose Marecic, Randall Cobb of Kentucky and Jeremy Kerley of TCU as Paul Hornung Award finalists.
"It is humbling to be included in a group with such great talent," Marecic added. "Randall Cobb and Jeremy Kerley are more than deserving of their recognition and their actions on the field have benefited their teams greatly and have challenged others to excel in the sport."
Paul Hornung lauded the finalists and the winner. "I want to congratulate all three players, each had a sensational year," Hornung said. "Owen Marecic was fantastic throughout the season and in the Orange Bowl. He is a complete football player – relentless, fearless and tough. He makes plays on defense, has a nose for the end zone and swallows up defenders as a blocker."
On the 2010 season, Marecic rushed 23 times for 46 yards and five TDS and was fifth leading tackler with 51 stops. A bruising blocker, he also paved the way for the Cardinal to average 213.8 yards per game on the ground, which ranked 19th-best in the nation. On defense, he recorded 5.5 tackles-for-loss, two sacks, two interceptions, five pass breakups and one fumble recovery. Marecic earned honorable mention All-America, first team All-Pac-10 Academic honors and second team ESPN/CoSIDA Academic All-America honors and was a finalist for the William V. Campbell Trophy, awarded to the top scholar-athlete in college football.
Marecic had a day to remember on the road at Notre Dame when he scored touchdowns on both sides of the ball on back-to-back plays from scrimmage. He capped an 11-play, 49-yard scoring drive with a one-yard TD run and following the ensuing kickoff intercepted a Dayne Crist pass and returned it 20 yards for a touchdown to give Stanford a 34-6 lead. In another memorable outing, he accounted for both of Stanford's touchdowns and three tackles in a 17-13 win at Arizona State. He also had a career-best 10 tackles at Oregon in the Cardinal's only loss of the season.
Marecic was quick to share accolades with those closest to him. "I would like to thank my family, my teammates, my coaches, and Stanford University," he said. "They are the true recipients of the award because without their continued support I could not be recognized for such a great honor."
Post-Collegiate Career
In April 2011, Owen Marecic was selected by the Cleveland Browns as the 124th pick in the NFL Draft. In September 2013, Marecic signed a one-year contract with the 49ers under former Stanford coach Jim Harbaugh. He was released from the 49ers in October 2013 after deciding not to continue his football career. Instead, Marecic placed his focus on his academic career, setting out to pursue a medical degree from Stanford.